With thousands of children across the country reuniting in classrooms this month, it's no wonder that the National Pediculosis Society (NPA) (https://www.headlice.org/comb/), declared September as National Head Lice Prevention Month. The NPA is a nonprofit that works to encourage the nation's health and child care professionals to adopt standardized head lice management programs so children remain lice and nit free.
Since it's Back to School season AND National Head Lice Prevention Month, we thought we'd recommend a few of our favorite children's books that get to the "nitty gritty" (no pun intended) of lice prevention and removal in a fun, kid-friendly way. So, as you're doing your routine checks for lice and nits, try out some of these books to help settle a fidgety child. They might also help calm any fears a child has about lice.
For more tips on prevention, click here. For advice on what to do if there's a lice outbreak at your child's school, click here.
Happy reading (and lice checking)!
Pediatric Hair Solution Note: Links are to Amazon or Goodreads, but Pediatric Hair Solutions receives no compensation from either. All book excerpts are also from Amazon.com or Goodreads. Many of these titles can also be found at your local library.
Itch!: Everything You Didn't Want to Know About What Makes You Scratch (https://tinyurl.com/everythingitch) by Anita Sanchez
Everybody gets itchy, and every kid will love this title that scratches the itch to know more and about the history, anatomy, botany, biology behind it. Perfect for fans of Grossology books looking for something more substantive and dynamic.
You can feel it coming on—that terrible, tortuous ITCH. As irritating as an itch is, it is also your body's way of sending you a message you can't miss, like you've brushed up against poison ivy or lice have taken up residence in your hair. None of which you'd know without that telltale itch!
And there are so many things that make us itch—from fungus to fleas, mosquitoes to nettles, poison ivy to tarantulas!
Combining history, anatomy, laugh-out-loud illustrations, and even tips to avoid—and soothe—the itch, Anita Sanchez and Gilbert Ford take readers on an intriguing (and sometimes disgusting) look into what makes you scratch.
Bugs in my Hair! (https://www.amazon.com/Bugs-My-Hair-David-Shannon/dp/0545143136  By David Shannon
Is something bugging you? Bestselling award-winner David Shannon shows the funny side of waging war against–oh no!–head lice.
This book is guaranteed to make you laugh–and itch! From the opening picture of a happy, oversized louse appearing with his suitcases, you know these bugs are determined to stay, and Mom is about to go nuts!
Nobody talks about them, but they are everywhere. (Some estimate 20 million children a year host them.) Oh, the shame and humiliation of having bugs in your hair! But if you go to school, or have play dates, chances are good you might meet them someday. Maybe you already have! Lucky for you, the unwelcome bugs in this story are so funny you will be laughing aloud–even when Mom attacks them with battle-tested anti-lice weapons.
Shannon peppers his hilarious scenes with fun, "nitpicking" facts about these "lousy" critters and pokes fun at common denial: "It's probably ash from that volcano in Pogo Pogo."
Soon the party's over – Bye bye, Little Nasties! Once again Shannon has created a fresh, highly entertaining read-aloud classic that begs to be read again and again.
Headlice: Disgusting Creatures Series (https://www.amazon.com/Head-Lice-Disgusting-Elise-Gravel/dp/1770496610) by Ellie Gravel
Part of a series of hilarious nonfiction books about disgusting creatures, this book examines head lice. It covers such topics as head lice habitats (human heads only, dogs are gross) anatomy (his body is slightly see through, so he can always see what he ate for lunch), and parenting practice (the female louse sticks eggs to human hair and uses the leftover glue for her model airplanes). Although silly and off-the-wall, Head Lice contains factual information that will both amuse and teach at the same time.
Yikes! Lice (https://www.goodreads.com/book/show/11052198-yikes–lice?from_search=true ) by Donna Caffey
Here's a light way to talk to children about that old nuisance head lice. Rhyming verses describe how one little girl gets head lice and how she and her parents get rid of them. Kids will enjoy the rollicking cartoon "cooties" playing hide-and-seek and having a party in the girl's hair until they are sent packing. Notes on each page provide detailed, factual information about head lice.
What's Bugging Ms. Nurse Penny? A Story about Lice (https://www.amazon.com/Whats-Bugging-Nurse-Penny-Story/dp/0807588032) by Catherine Stier
Nurse Penny is a fun and funky school nurse who wears honeybee earrings and a butterfly smock and carries a ladybug purse. But there's one kind of bug she'd rather not have around. . .head lice! So she calls a special school assembly to talk about those pesky critters—what they look like, how to avoid them, and how to get rid of them. After all, lice can happen to anyone—even the school nurse!
Scritch Scratch, We Have Nits (https://www.goodreads.com/book/show/15943660-scritch-scratch-we-have-nits?from_search=true) by Miriam Moss
One day a tiny insect, no bigger than a freckle, climbs into Miss Calypso's classroom. Nobody notices until Polly scritches, Joshua scratches and soon the whole class is scritching and scratching!
Lots of Lice (https://www.goodreads.com/book/show/1996849.Lots_of_Lice) by Bobbi Katz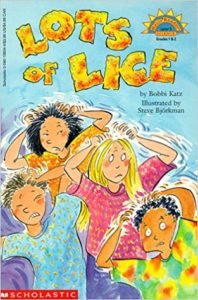 Told from the point of view of lice, this humorous, rhyming book helps readers learn what lice are and how to protect themselves from them.